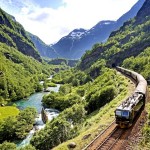 I came across this poem a while back, but it should remind us to have adventures always, no matter how old we get. It is by Mark Van Doren, a devout Catholic and legendary professor of English at Columbia back in the day. He taught Dr. John Senior, and (I believe) Paul Spring's father. I respect this man as a poet, teacher, and critic. This poem falls under "Adventure" poems; Van Doren has the muse in him, and it permeates his poetry
A Dream of Trains
Mark Van Doren
As long ago they raced,
Last night they raced again;
I heard them inside me,
I felt the roll of the land.
I looked out of a window
And I was moving too;
The moon above Nebraska,
Lonely and cold.
Mourned for all of the autumns
I had forgotten this:
The low hills that tilted,
The barrenness, the vast.
I think I will remember now
Until the end of the world
How lordly were the straightaways,
How lyrical the curves.