Over this last week I was pleased to have Davey Talbot around Phoenix.
He showed me this blog which is called "Colossal."
What a delight!  Colossal provides a variety of content.
Some of the content on Colossal is beautiful.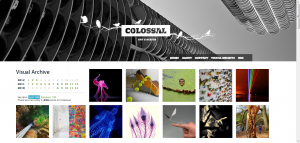 Some of it is quirky, interesting, or thought-
provoking, but the majority of it is fun
and colorful.  I hope you get a chance
to poke around on there.
Here's a video for the Bar boys from Colossal…