This past Saturday we had the traditional Mallapalooza of UD, and hands down, it was the best one yet. The day was loaded with a stellar line-up featuring rockabilly hits, reggae jammin', soul funk, and danceable tunes. Student Foundation hosted a 3 hour cookout, the Senior Gift committee hosted a bags tournament, the beer garden opened at 5 p.m. (three hours earlier than normal)…all in all, it was a smashing success. But the highlight came at 11:30 p.m. when Dawes, (think Mumford & Sons meets Jackson Brown meets Old Crow Medicine Show) took the stage. The performance was nothing short of amazing… Here are a couple links to some of the performance (yes, that's Paul Spring singing their biggest hit with them on stage!)
Now, to a continued "gush fest" about Dawes (because it was just so darn awesome).These guys are true musicians, especially considering they're just on the brink of legit fame (they were on David Letterman the other night backing up Robbie Robertson of "The Band") and are so down to earth.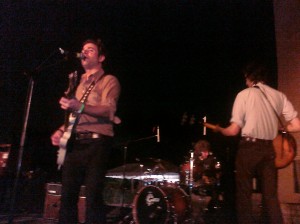 Griffin, the drummer, and Tay, the pianist/organist, hung out in Old Mill for a while in the early evening, and after Malla was done, the rest of the band, Taylor the lead singer and Wylie the bassist, came by the Mansion for drinks, bags, and just general chill time. With a pretty consistent fan base, they're definitely soon to be big, but as Taylor told quite a few of us, it's all about the music for them. The lyrics are so poetic, really reflecting on themes that are complex, yet compellingly simplistic all at the same time. Whether it's impending death and the fear of it being far too painful, unrequited love that burns within and can't be explained, or a reflection upon one's time soon to come, it's all beautiful. While they could probably be defined as "chill," they rock a live show like nobody's business…Opening with a rock out hit (My girl to me) that had Taylor dancing all over the stage and shredding on solos that incited fan girl screams, to Griffin's intense drum solo on "Bedside Manner"It is definitely worth buying their album, North Hills, if for no other reason than to be joined in spirit to the UD crowd that can't stop talking about the most epic Mallapalooza performance in recent years.
Just to leave you with one final Dawes tidbit, watch this video of their biggest hit right now "When my time comes." There wasn't a silent person on the mall when they played this as their final song. We were belting the chorus, cheering for Paul when he went up there to sing with them, and dancing our hearts out.
https://www.youtube.com/watch?v=HctNdDxXa-A&feature=related
Until Malla next year…
-Katie